Treating sick and injured horses with diagnostics.
At Stone Ridge Equine Care, our goal is to keep your horse healthy. Thanks to modern diagnostics and our on-site laboratory, we're able to do just that for sick and injured horses.
Our in-house lab offers results within minutes for diagnostic blood work testing, fecal samples, and semen evaluation. We also have access to many outside laboratories for further testing. The pharmacy at Stone Ridge Equine Care is fully stocked with a wide variety of over-the-counter medications and prescriptions.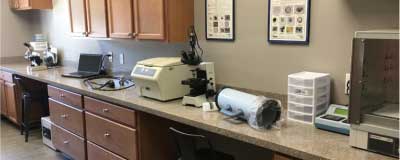 With the shared goal of successful recovery, our team of experienced veterinarians works together to return your horse to good health.
Please call us today at (812) 867-7330 to learn more about our Diagnostic Services.